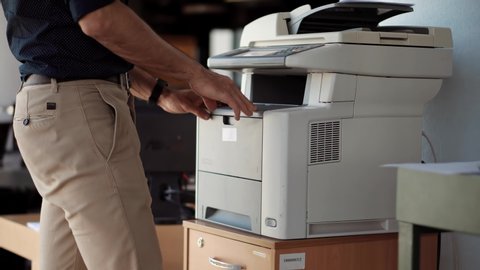 If this is your first time purchasing a photocopier, understanding its specifications and terminology is the first thing you need to take into consideration. Did you know that copier leasing is a popular trend in most companies in Wichita? In fact, a lot of companies in Wichita offer copier leasing services. This trend has helped a lot of business owners in New York to boost their overall productivity.
If you are in Wichita and you are looking for a Copier in Wichita for your business, you may contact Clear Choice Technical Services in Wichita. You can ask about Copier Leasing Services in Wichita, Copier rental services in Wichita, and Copier Repair in Wichita.
In this post, we are going to provide you with a brief explanation regarding photocopier specifications and terminology. So, if you want to know more about it, then keep reading.
Finisher
This part of a copier comes with more than two hole punches and a stapler. This also features a booklet trim and folding options.
ADF (Automatic Document Feeder)
This refers to a part of a copier that enables an individual to copy several pages at once. The Automatic Document Feeder can copy and print out several pages without lifting its lid.
Paper Tray Size
The paper tray size is a part of your copier that holds the paper. If your business or employees require a high volume of prints daily, it is important that you will purchase a large-sized paper tray.
NIC (Network Interface Card)
This part of a copier enables you to connect it with the internet connection, which will allow you to print a document wirelessly. The Network Interface Card works as a network printer.
PPM (Pages Per Minute)
This terminology refers to the speed of your copier machine to print documents and/or create copies.
Additional Paper Trays
This is an essential part of a copier if your business requires printing documents on customized paper sizes. Not only that, but it also helps the copier user to print documents on colored papers without the need to switch the papers.
Black and White or Color Printing
If we are going to compare color copiers and black and white copiers, you may notice that the latter are way cheaper. If you are going to print colored documents, then it is important that your copier machine can print, scan, and create copies in colors.
Copier Lease
When we say copier lease, it is an act of leasing a copier machine from a company that offers leasing services. This is a good trend, especially for those business owners who don't have enough money to order brand new copying machines.
Universal Driver Support
This terminology refers to the assurance that the copier device comes with a set of features that require minimal configuration and simple installation after delivering the machine.
Exposure Control
This terminology refers to a copier specification that enables the user to lighten or darken the documents before it gets printed out.
Resolution
You might have encountered this term as it is being used for most machines, such as a camera. Resolution refers to the print quality produced by a copier machine. Most users require a high level of resolution, especially when working with good quality graphics.
Now that you know some of the important terminologies and specifications of a new photocopier, you can use it properly. As we mentioned, copier leasing in Wichita is a popular trend for most companies. One of the benefits you will get from availing of the copier leasing services in Wichita is that it enables you to use a copier half the amount of the original price of a brand new copying machine.
You may encounter the terminologies mentioned above in every copier machine, despite its brand and model. Considering that copiers are quite expensive at first, it would be best if you will avail of copier leasing services.